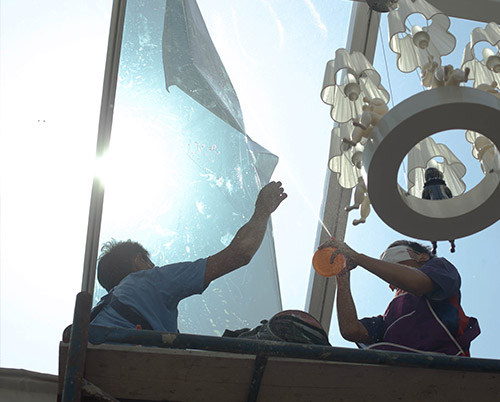 Window tinting is the process of pasting colored film on a window. Different people apply the film for various reasons. Some do it to reduce the amount of sunlight that gets in the house while others do it to improve the look of the windows. You can undertake home, office, and even car window tinting.
Types of window tinting
There are many types of tinting that you can go with. The most common ones are:
Ceramic window tinting: This is a modern tinting method that has been shown to reduce UV rays getting in the house by up to 80%. The most attractive thing about these units is that they don't contain any dyes that often discolor after a particular time. Due to this, you can be sure that they will retain their color for a long time. In addition to the tints reducing the UV rays, they also reduce the sun rays. They also prevent the passage of heat.
Security tinting: From their name, you install these solely for reasons of safety. The tinting materials are made from heavy-gauge plastic that prevents the glass from shattering even when you hit it with a heavy object or a bullet. The materials often tightly hold onto the glass even in times of high winds and cyclones. Since they provide a lot of protection, they are preferred by VIPs and ministers where they are installed in their cars and sometimes in their houses.
Privacy window tinting: You install the tinting in your home, car, or even in the office to increase the privacy levels. When you install the window film, it makes the glass opaque or translucent from one side thus no one can see inside. The silvering look created by the material allows you to see the outside of the house or office, but the people outside aren't aware that you can see them. The most attractive thing about them is that they are cheap and you can use them on any glass.
Graphic design window tinting: You use this in offices, buildings, and glass arts. The tinting materials feature vinyl, which is a chemical known to cause coloration. In addition to the units serving as sunlight barriers, they also enhance the beauty of the glass art.
Conclusion
These are some of the common types of tinting that you can go for. Whether you are looking to tint your home, office or car, ensure that a professional working does the work in reputable window tint shops.